Conventional repair with seam between old and new
asphalt vs. infrared repair without seam.

infrared asphalt repairs melt the repair to the existing
asphalt resulting in no seam, no where for water to
enter and a far more permanent repair.


Why infrared?
Repairing asphalt by conventional methods is a very expensive and time-consuming process. It requires a significant amount of equipment, material and manpower, and the results are from from permanent.

Even when done correctly, the finished conventional asphalt repair is left with a cold seam where the hot asphalt meets the existing pavement. this cold seam is the weak link and is where water will eventually re-enter the repair and cause it to fail.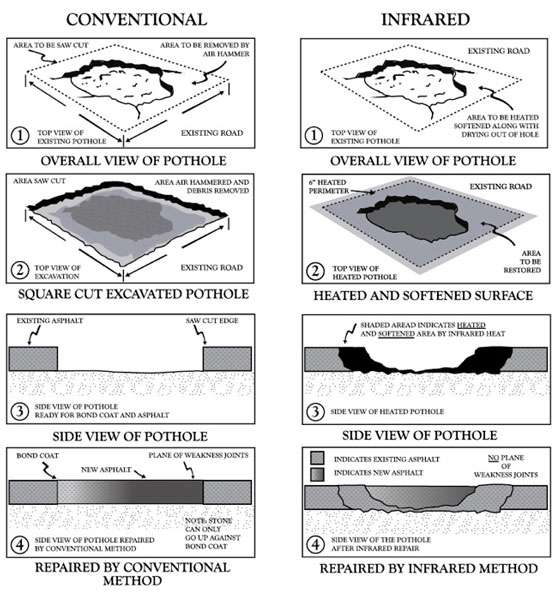 The price of asphalt has been increasing over the years. Using infrared heat technology will allow you to repair pot holes, bird-baths, utility cuts, rough surfaces and more at an affordable rate by recycling the existing asphalt. Infrared repair techniques are faster than cutting out and replacing asphalt.
A thermal bond is made with the existing asphalt verse leaving a seam around the perimeter of a repair where water can eventually leak in. Traffic can resume about ½ hour after infrared process has been completed.
One of the best parts about Infrared Restoration is it can be done around the clock 365 days a year - no problems with cold or wet weather.
Not only is it Cost Effective but it's Eco Friendly too! We reuse 95% of the existing asphalt and all of our equipment is contained on one truck. Whereas, the conventional method discards 100% of the existing asphalt and uses multiple carbon emitting trucks and machines.
Welcome to Frank A. Macchione Construction's Infrared Paving Page, a non traditional venture from a family

with a lot of tradition. After over 40 years in paving, we have decided to bring a new technology to the northeast. We invite you to learn more about seamless infrared asphalt patching, an environmentally friendly, long lasting, aesthetically pleasing technology.
The Macchione Family